It was the very first evening aboard our cruise ship. Passengers gathered in the theatre eagerly anticipating the briefing on the adventures to come during the upcoming week. The theatre was plush, draped in velvet and lined with mahogany. The presentation was being given by our guides. They were highly educated and experts in their fields. In sharp contrast to the theatre, they were a rugged looking group and seemed well prepared for any environmental challenge. We sipped specialty cocktails that were tray-passed at the entrance and observed the other guests as we quietly took our seats.

We were on our way to Antarctica. I thought I knew why I had come the distance, why I had talked my husband into traveling six thousand miles from home. I thought it was to complete my bucket list. Yes, all seven continents with photos to prove it. It was that evening that I learned why I was really there.
The guests looked homogeneous; for the most part we were all older, casually but nicely dressed, and well mannered. As I studied the audience I wondered what their motivations were for taking this trip. I assumed some had dedicated their lives to ecology and the geosystems of nature and were here as further study of their life's work. Others, I thought, were most likely traveling as a testament to their courage to leave their comfort zone. For some, I surmised, they longed for pure adventure. Whatever the reasons, I believe they, too, learned life lessons from Antarctica.
Everyone Wants to Feel Welcomed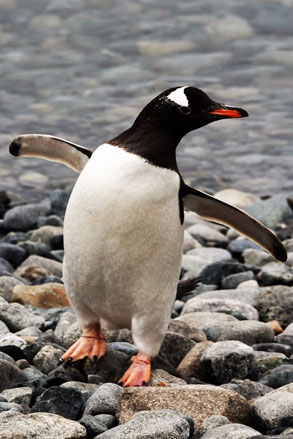 The Gentoo Penguins in Corbevil Harbor had learned the universal symbol of acceptance – a smile and a set of open arms. How important, I was reminded, to be positive and provide an enthusiastic greeting to others. Language barriers and cultural differences can't mask the message that is sent with a smile.  This little guy knew that and he set the tone. Positivity – it begins with a smile, it's continued by laughter and it's renewed with a sense of gratitude. Journalist Hugh Sidey said it best, "A person with a sense of humor means here is joy in their heart, laughter on their lips & down deep they have a pretty good grasp of life."
Eliminate the Hurry in Your Life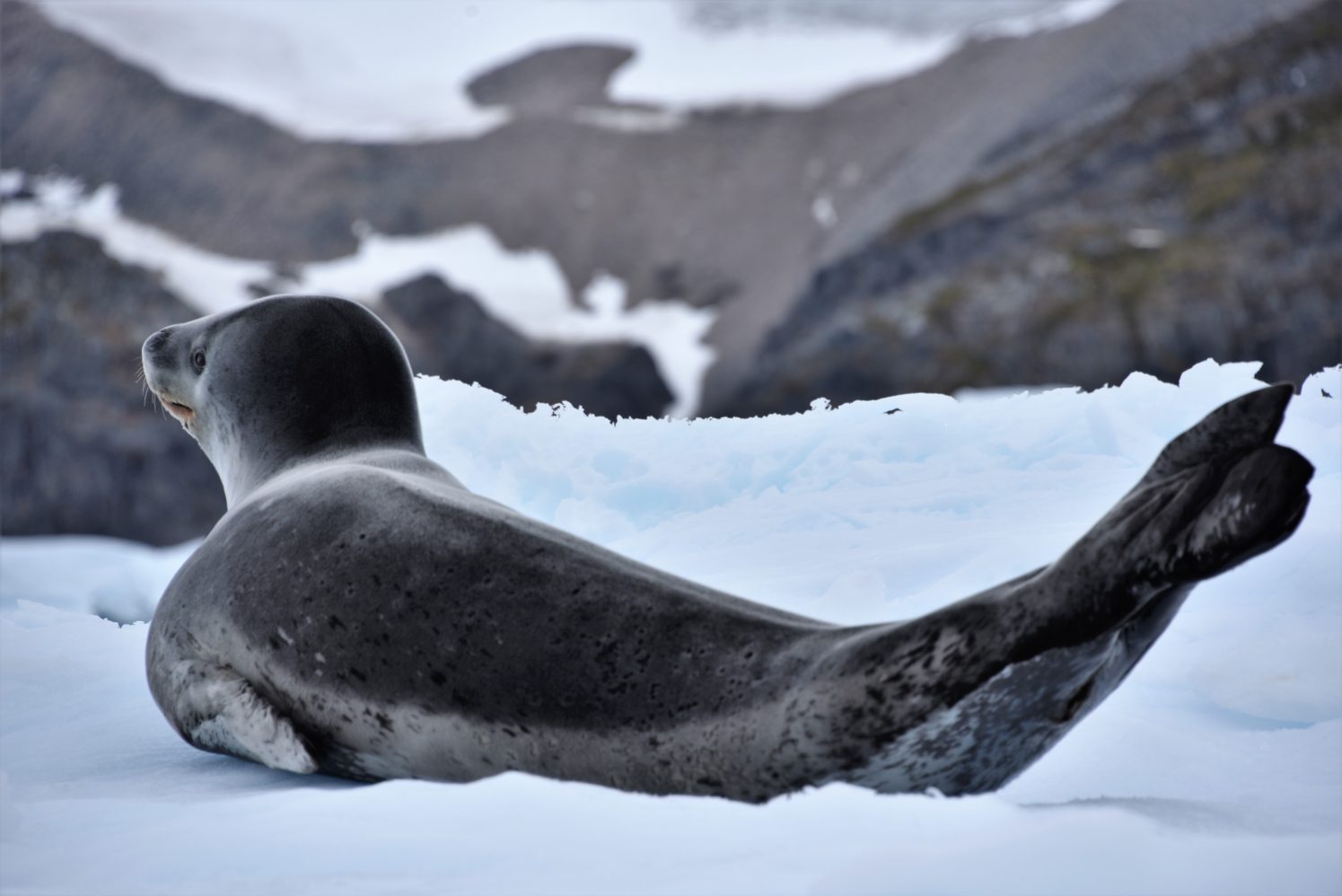 In John Ortberg's Book The Life You've Always Wanted he writes of the advice he received from a mentor when he was seeking to accomplish more, "Ruthlessly eliminate hurry in your life." I have found this advice to be the single difference-maker between feeling like you're getting the most out of life versus feeling empty and unaccomplished. Hurry sickness is an ailment suffered by many "Type A behavior" sorts like myself. It is our unremitting attempt to accomplish or achieve more, participate more, do more, go more.  But if we arrive early, replace distractions with mindfulness and fully engage in the moment, we will enjoy a better sense of wholeness. The leopard seals of Antarctica already know this. 
Remember there is much more below the surface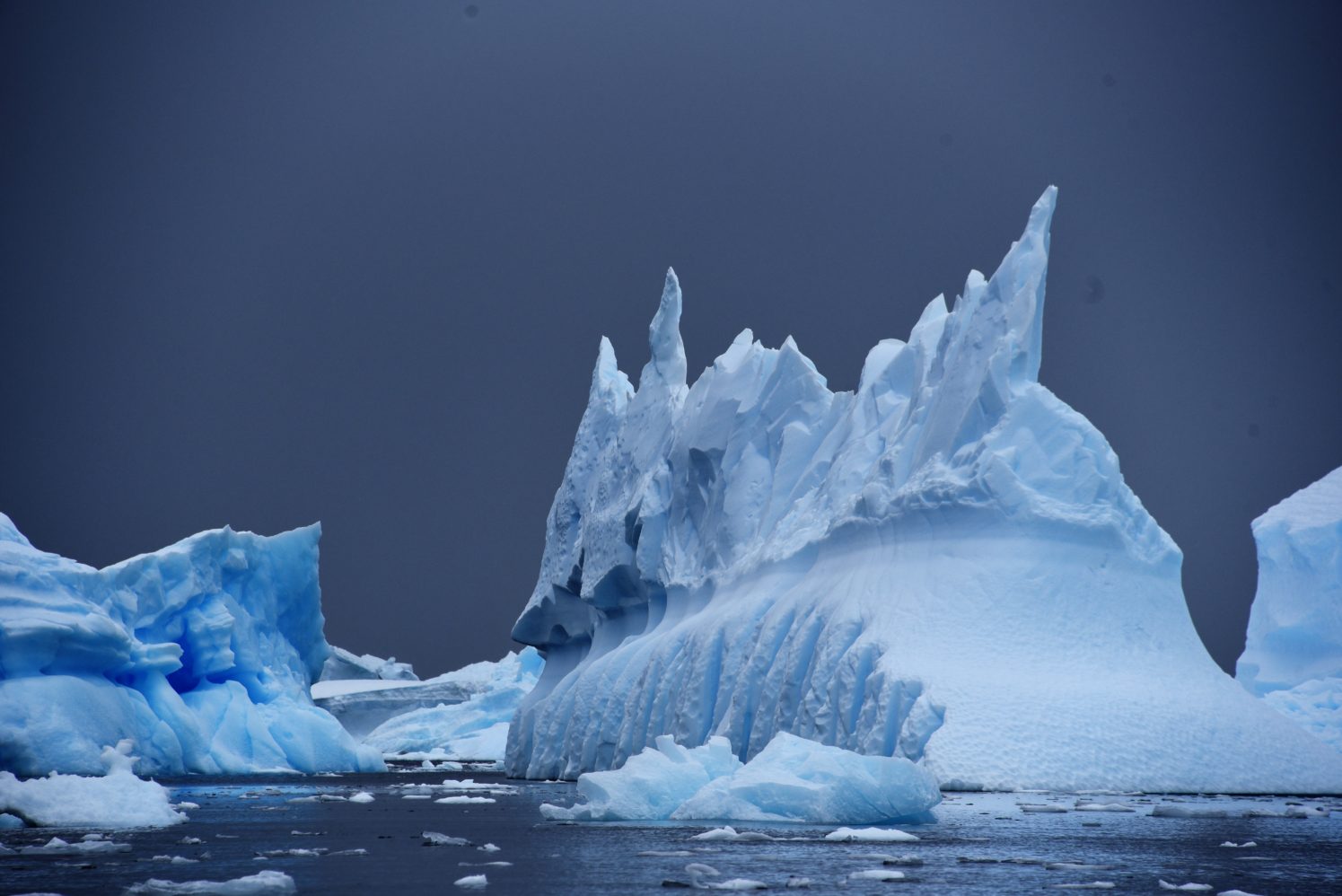 As we floated among massive icebergs, one more beautiful and unique than the other, our guide reminded us that eighty percent of an iceberg is below the waterline. What we saw were breath-taking crystal blue sculptures. What we didn't see was what was below the surface. Success is like that – it's called the Iceberg Effect. People see the success, but what they may not see is all the discipline, disappointments, sacrifices, hard work and persistence that resulted in success. It reminded me to appreciate those around me and be sensitive and empathetic – there may be a lot beneath the surface I don't know.
Widening your Circle of Acquaintances is Healthy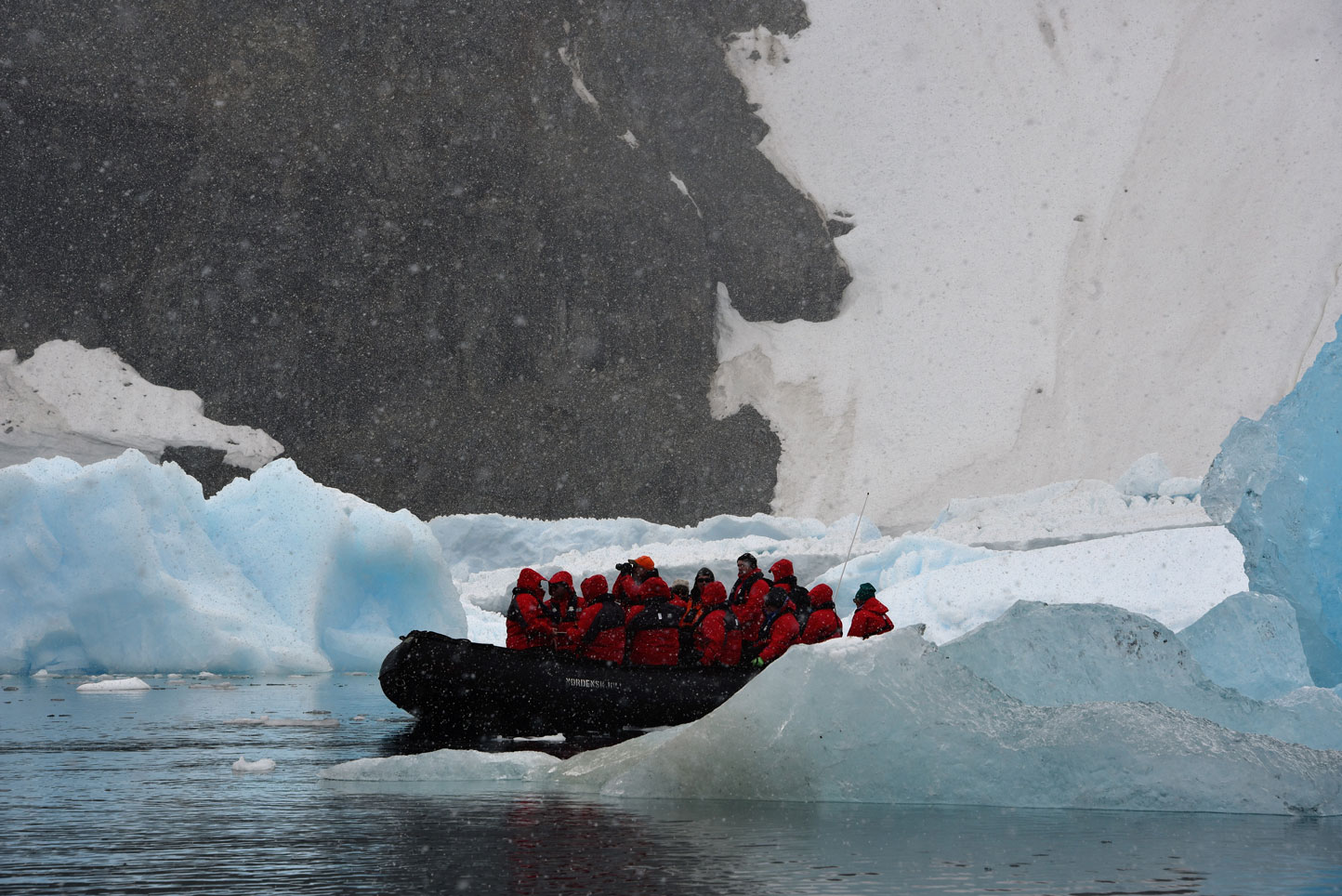 To reach Antarctica, our ship embarked from Ushuaia, Argentina, the furthest most southern city in the world. The sign in the town square announces its claim to fame, "Welcome to Ushuaia, the End of the World!"  I hadn't contemplated that Florida was further away from the Antarctica Peninsula than Sydney, Australia. We had traveled 6,328 miles but our Aussie mates aboard the ship were only 5,612 miles from home. From Ushuaia, we traveled south for two days through the Drake passage and everyone agreed – Antarctica was remote. The playing field had been leveled – everyone was from somewhere else far away. We had travel companions from countries including Russia, Germany, China, Malaysia, India, Australia and the United States. We exchanged stories about where they were from and what they had left behind…family, pets, passions…
Lothar Loffel was from Munich, Germany. He had a handlebar mustache, an impish grin and a thick accent. He instantly bonded with Lowell as their first and last names both started with "Lo". He immediately asked if everyone called Lowell by the same nickname "Lolo" as they did him. The laughter led to more serious discussions of WWII and Nazi, Germany. It was painful for Lolo to share his childhood memories but we were gratified that he felt safe to share and knew we were given the gift of his perspective.
Maintain Your Own Sense of Balance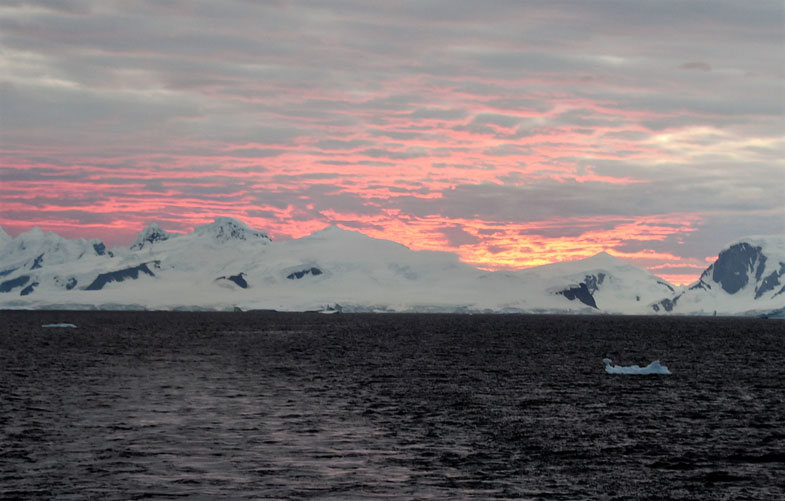 Antarctica's snow-covered horizons, vibrant sunsets, and variety of wildlife provided a striking dose of humility and continuous opportunities for reflection. Its ecosystem which has existed for over 33 million years is beautifully balanced. My thoughts turned to what creates that same sense of balance for me in my little corner of the world, Ormond Beach:  What really matters turned into who really matters. What was on my to-do list turned into what I really want to do. The next commitments on my calendar turned into a renewed commitment to be engaged in the moment. My health, close relationships, meaningful work, and making a positive contribution are all a part of my renewed ecosystem.
Great People are Everywhere – and many are Buckeyes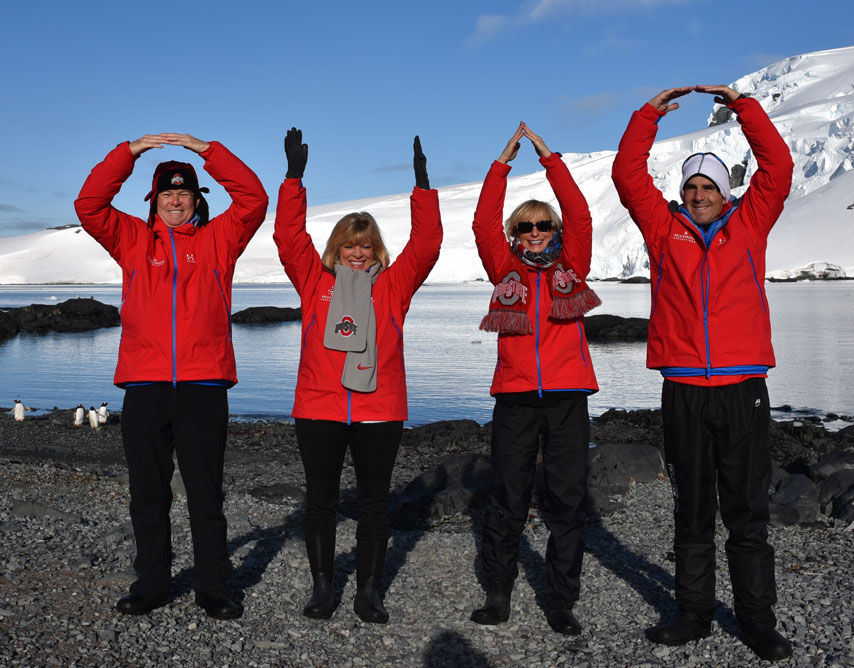 One evening early on our cruise the hostess sat Dana and Howard at our table. He introduced them by name and added casually, "They are from Ohio." With that, Lowell said,   "O-H!" Unlike Florida, in Ohio there is no fierce in-state collegiate rivalry. We save that for Michigan. So the global handshake for all Buckeyes and most Ohioans is the greeting, "O-H" with an "I-O" response. I was drawn to Dana's bright, optimistic and grounded character; she shared enthusiastically in conversation and was equally as excellent a listener. She had a blend of many admirable qualities I knew I could learn from and it was a good feeling for us to blend well with them. 1 planet, 7 continents, 204 countries, 7.5 billion people and we had the privilege of meeting them. What a gift from Antarctica.
We Long for Peace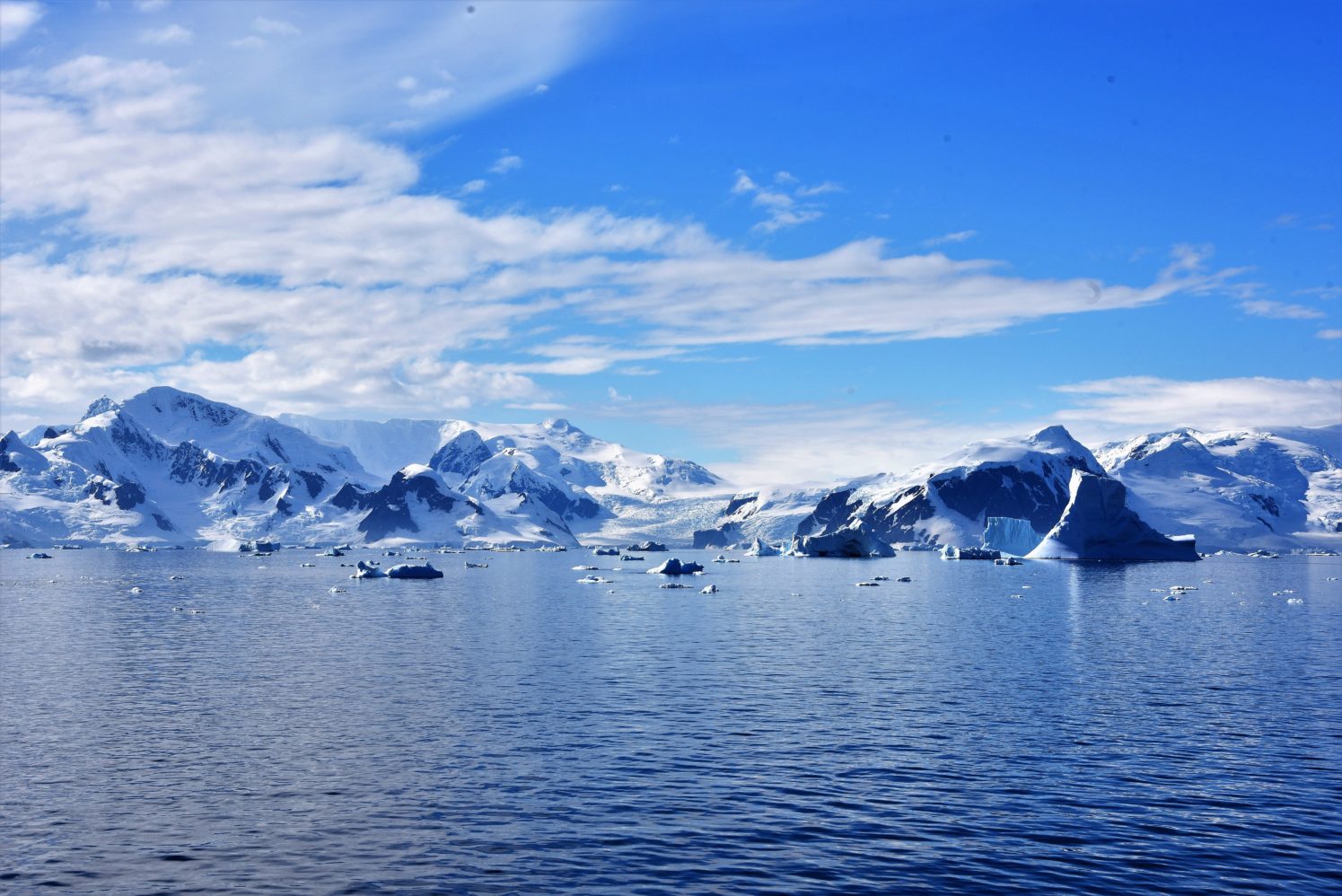 What I learned the first evening of our cruise I subsequently lived each day of our journey. Yes, that was why we were meant to be in Antarctica. By virtue of a worldwide treaty enacted in 1961, Antarctica is for peaceful purposes only. It is a remote, unoccupied, unowned landmass. Its treaty prohibits any measures of a military nature. There are not permanent inhabitants nor permanent establishments of bases, fortifications, military maneuvers or weapon testing. Its sole purpose is the freedom of scientific investigation whose plans and results are to be exchanged and openly shared.  It is Peace on Earth and we needed some.