My husband was sick, food poisoning or the flu perhaps. Somewhere, somehow in Egypt he started feeling badly. But we flew on to Goa, India connecting from Luxor to Goa through Qatar. We were traveling to India for a friend's wedding so we decided to continue our itinerary, hoping he would feel better.

Our friend had been a server on a cruise we had taken. He was delightfully warm and kind. We had learned from him the details of his home in Goa, his fiancee who was waiting for him to return and the celebration they had planned for the following year. We were determined to be there and excited to have been invited.
We checked into the Taj Exotica Resort on the eastern coast of India but determined we needed to leave as quickly as possible. It was a pity as the open-air hotel had a relaxing Tommy Bahama feel to it and begged for us to stroll its ground with a Pina Colada in hand. Exhausted, I snuggled under the billowy white bed linens and called the airlines. With the phone to my ear, I hoped I would not be disconnected. I tried not to doze off and miss the call. But the bed was heavenly. Minutes passed, still nothing. Then, alarmed by an American voice, I awoke to a kind and patient man who booked us on the next available flight home.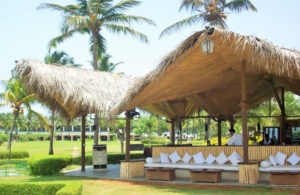 We quickly checked back out of the hotel. The front desk associate was alarmed by our sudden departure and began assisting us with our logistics, assuring us that he would return us safely to the airport. As we maneuvered through the hotel, into the taxi and off to the airport, the people we encountered along our journey could not have been more kind or helpful. The hotel staff emerged from behind the desk and around the corners to quietly escort us to the hotel's entrance. The taxi cab driver proudly loaded all of our luggage into his tiny cab, somehow managing to accommodate every piece. The airport personnel efficiently confirmed our ticketing.  It was a lesson in global humanity. The necessary qualities including empathy can be found in many places I'm sure – I know for certain they are in India.