As I lived in the captivating city of Barcelona for just six weeks, I wanted to try and participate in everything that the city had to offer. I went on a trip with my school and there were different activities that they included for us to do if we desired. One fun activity in particular was a traditional Catalan cooking class.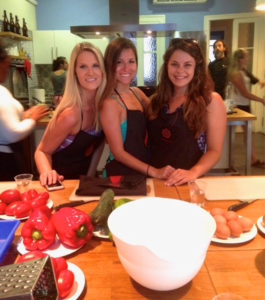 I absolutely love to cook and spend time in the kitchen back at home, so I figured this would be a fun experience for me. This cooking class was unlike anything I have ever done in my life. It was a class designed for 12 or more people to participate in, so other students came along with me.
In Spain, a popular native dish is called Paella. Paella is similar to a stir-fry, with many different ingredients of your choice, but made in a very large Spanish paella pan. We made chicken paella, gazpacho soup, soft Spanish bread with a tomato glaze, tortilla de patatas (an omlette with potatoes), and a Catalan crème dessert. It was very interactive and I learned a lot about Spanish cooking. The food was also amazing, which made all of the cooking worth it.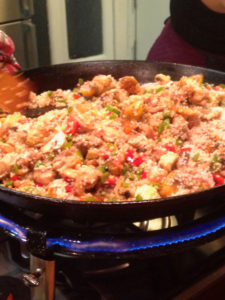 My group was in charge of the gazpacho, which is a cold-served vegetable based soup. There were 5 different groups, which meant we couldn't have the chef's attention at all times. We were completely directed and taught by him in Spanish (no English allowed), which made things difficult for us as new Spanish speakers. By saying that it was difficult I actually mean that we ruined our dish. I still have a video of me mixing the vegetables into the gazpacho soup without a thought in the world of things going wrong, while another girl was pouring in a bowl of salt. You read that correctly, pouring in a BOWL of salt.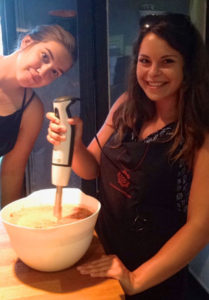 The Spanish directions said one teaspoon, but I guess our Spanish language skills at that time proved us to be pretty hopeless as cooks. With that being said, the soup was not served with our dinner. Every other dish turned out to be delicious, though! Although we ruined the soup, it made a great story about being immersed into a culture or a situation where you don't know the language and how fast things can go wrong. I will never forget it and I will never make salty soup again! 🙂